---
Grilled Ribeye & Peewee Potatoes
---
Grill like a chef: Dip your bouquet garni (twined herb bundle) in melted butter and baste your ribeye, potatoes and veg.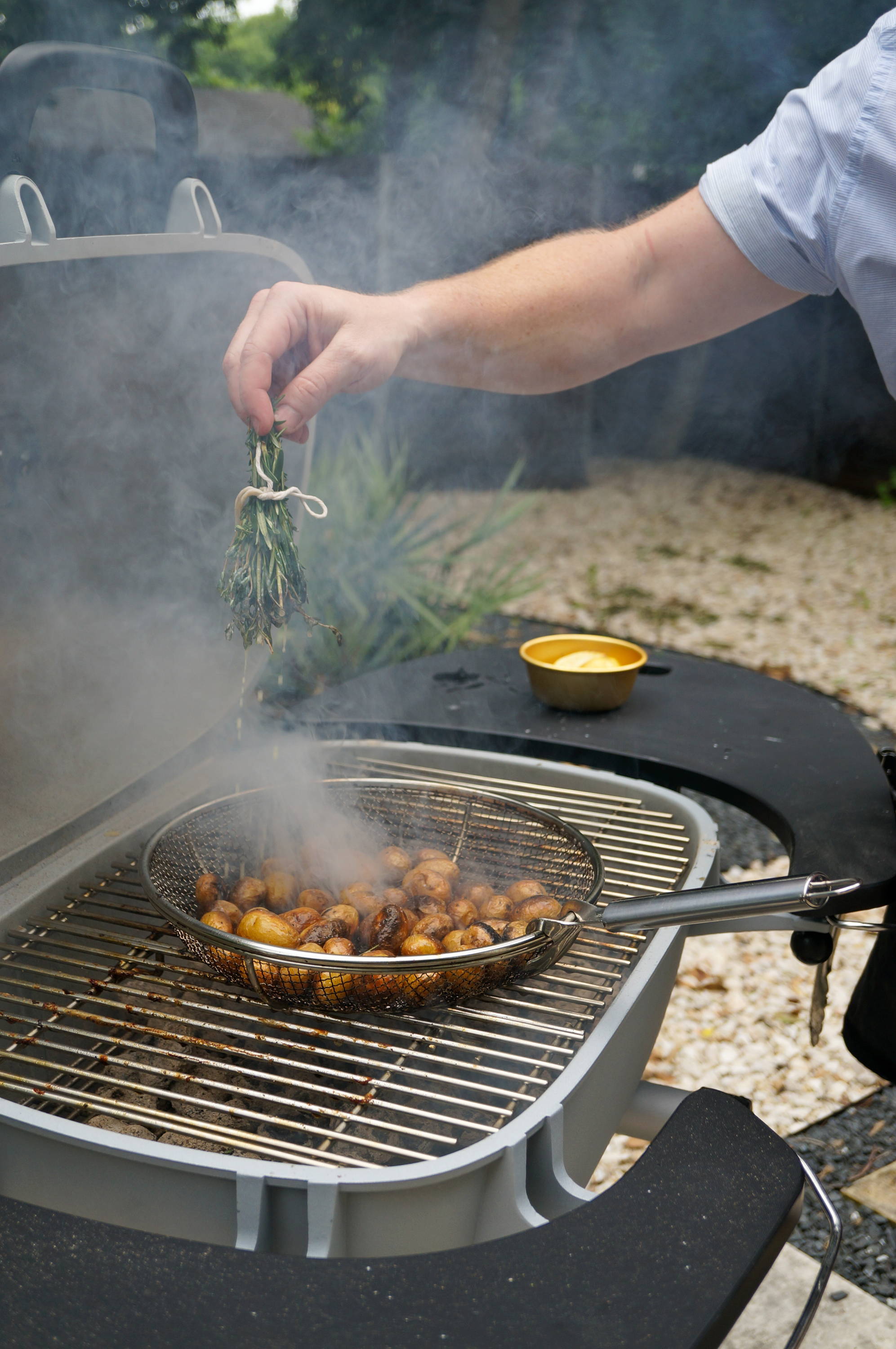 Chef's 5 Steps to Grilling the Perfect Ribeye:
Remove Ribeye from refrigerator for 30 minutes prior to cooking to temper.
Season Ribeye on all sides liberally with kosher salt and pepper.
Grill, over high heat, on both sides (4-5 min per side) to reach a 135 F internal temperature for medium rare plus doneness.
Baste both sides with melted butter with a "herb mop".
Rest the steak for 10 minutes before serving and slicing.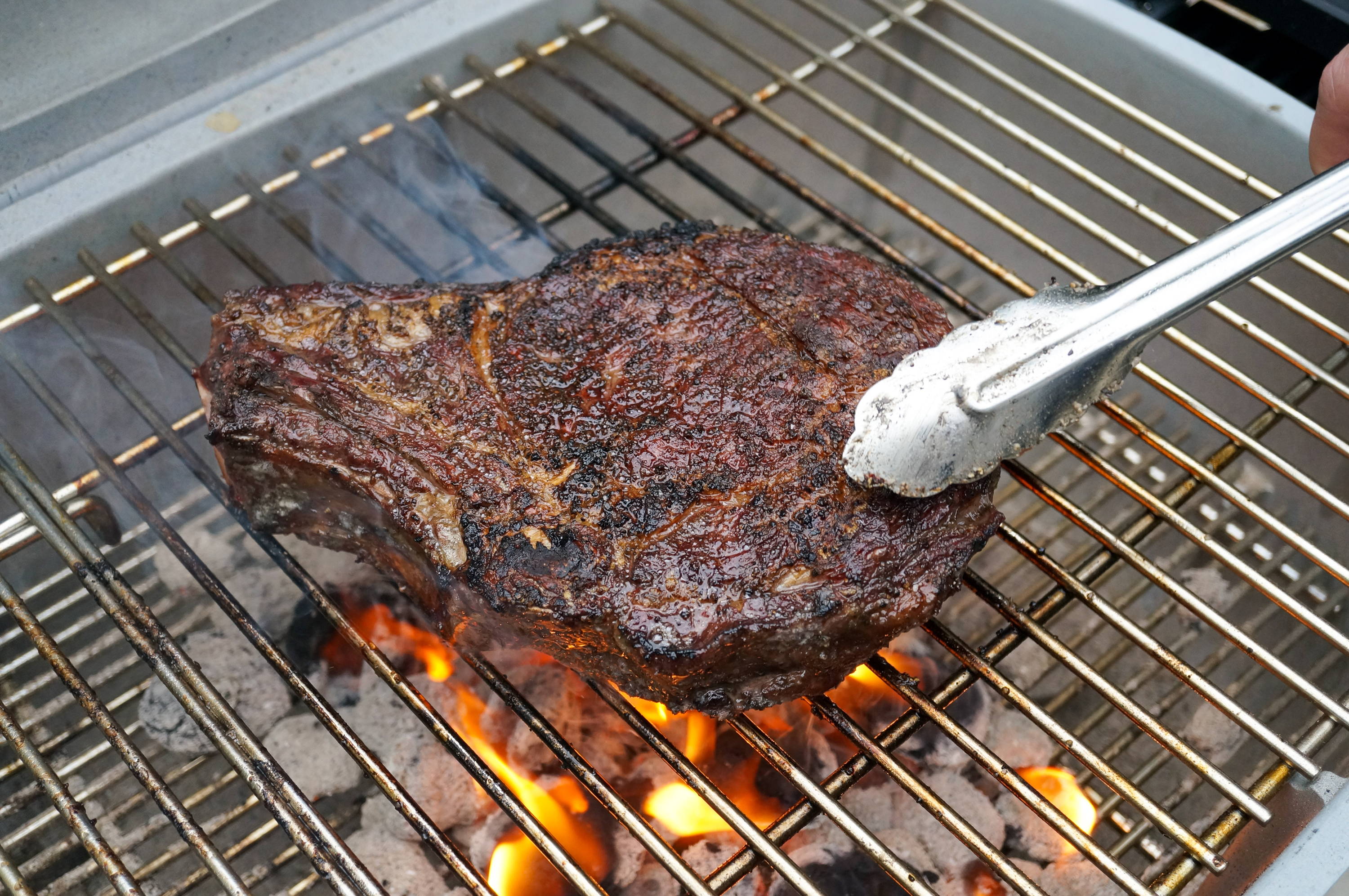 Get ready for Grilling Season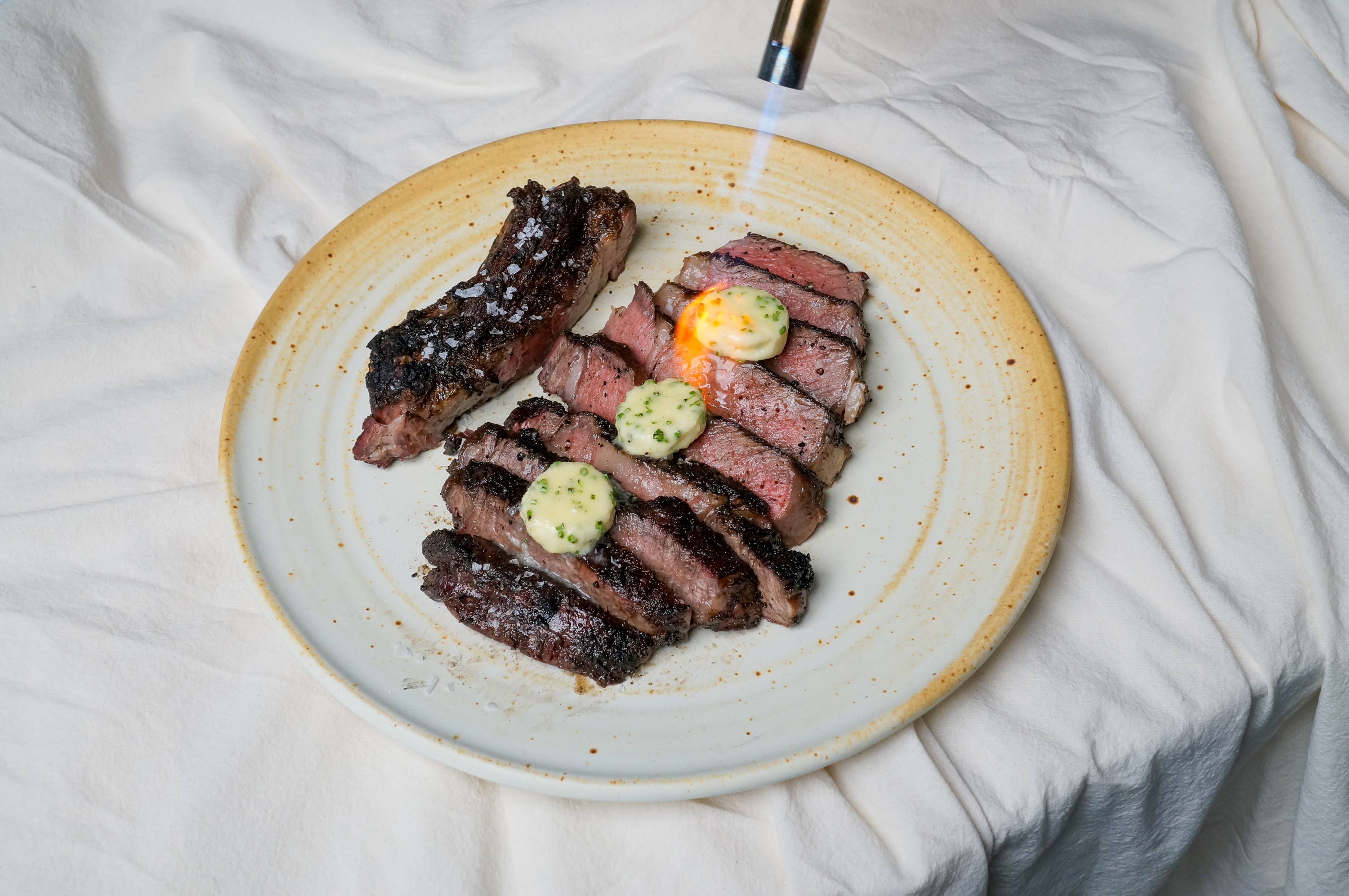 Horseradish Compound Butter:
Unsalted Butter – 4 ounces (1 stick) **Room Temperature**

Prepared Horseradish – 1 Tbsp (or to taste)

Kosher Salt – 1 tsp

Plastic Kitchen Wrap – approx. 1 foot

Combine all ingredients in a small bowl and mix well incorporate

Roll out plastic wrap and lay flat on counter. Place butter mixture in a 4 inch long roll in the lower third of the plastic wrap. Fold short end of the plastic over the butter and pull the wrap slightly back on itself to encapsulate the butter mixture being careful not to elongate the mixture. Roll the butter towards the longer end of the plastic to use all remaining wrap. Lastly, grab each end of the plastic wrap, and in a circular motion spin the butter to tighten the plastic wrap around the butter mixture.

Refrigerate for at least 1 hour

Slice into coins to be placed upon the steak while it rests or just before serving
---
Grilled Pee Wee Potatotes with Corn Puree
Pee Wee Potatoes – 2 lbs

Butter – 4 ounces

Thyme – 8 sprigs

Rosemary – 4 sprigs

Grapeseed oil – as needed

Kosher Salt - to taste
In a bowl, place potatoes, 1 T of oil, and 1 t of salt. Mix well to combine.

Using a grill basket, grill potatoes until slightly charred and cooked through

At the end of the cooking process, heat butter in a small pan and tie together herbs with butcher's twine to resemble a mop. Generously brush the potatoes with melted butter using the herb mop being careful of potential flare ups from the butter hitting the hot grill.

Remove from the grill. Toss in bowl and season with kosher salt to taste.
Corn Puree Ingredients:
White Onion (Vidalia) – 1 ea

Corn – 3 ea

Garlic – 3 ea (cloves)

Chicken Stock – 2 Cup (or as needed)

White Vinegar – 2 tsp

Lemon – 1 ea (juice and zest)

Kosher Salt - to taste
Remove skin and ends from the onion. Halve lengthwise and slice into thin strips.

Remove husk and silk from corn cobs. Slice kernels from the cobb.

In a pot, heat over medium high, add 1 T of grapeseed oil. Once warmed through, add corn and onion. Saute for 5 minutes, stirring often, to soften but not to brown the onions.

Add 2 C of chicken stock, or enough to cover the vegetables. Add 3 cloves of smashed garlic, skin and root end removed.

Simmer for 20-25 minutes. May need to add more stock to keep liquid level at least halfway up the corn, garlic, and onion mixture.

Once cooked, place mixture in blender. Add 2 t vinegar, lemon juice and zest, and 2 t. Spin until very smooth. Taste and adjust seasonings if needed.
---